Firstly, you need to have your recovery key phrase on hand. Then, you need to choose the option of Restore Wallet as shown below.
NB! If you use a hardware wallet (Ledger or Trezor), you need to go through Connect to hardware wallet instead. Never enter your Ledger's/Trezor's recovery phrase in Yoroi.
Yoroi is a multi-chain wallet that supports Cardano ADA and Ergo ERG. We will restore a Cardano wallet as an example.
Cardano key phrases can have 15 or 24 words. Also, you can restore a paper wallet. Yoroi-generated phrases are always 15-words long, but yours may consist of 24 words (e.g. you created a wallet in Daedalus). We will go with the 15-word phrase here.
Next, you'll be asked to choose the era in which the wallet was created. Byron was the previous era in Cardano, but all wallets created after July 29th, 2020 are Standard wallets (you may also know them as Shelley-era or staking wallets).
Next, you have the Restore Wallet menu. The name and passwords do not have to be the same as the ones used before. If you have forgotten your password, this is the method to create a new one. In the recovery phrase square, you need to type each of the 15 or 24 words in the same order as shown the first time you created the wallet.
When typing, you should either pick words from the drop-down or click the Enter key after each word (if you just use the space bar to separate words they will not be validated and you will not be able to restore the wallet, the RESTORE WALLET button will remain inactive). On the screenshot below, you can see what the input should look like.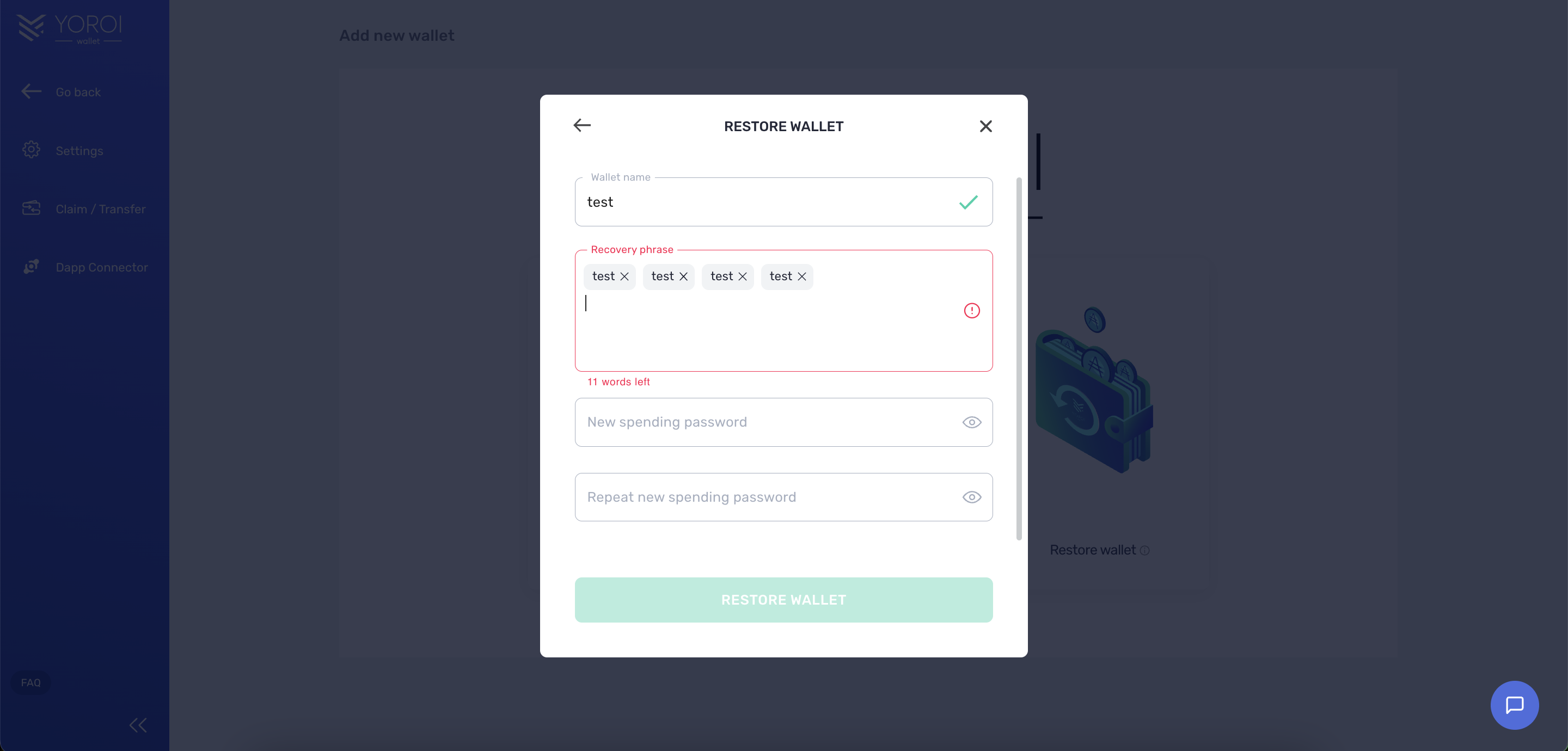 Once the process is completed, press
Once the process is completed, press RESTORE WALLET. Your wallet will be completely restored after this point (you may need to wait for a moment for Yoroi to sync with the blockchain).